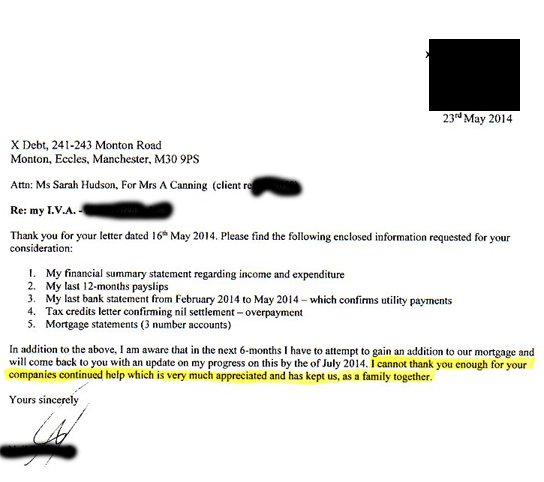 Lovely thoughts of a client who entered into an IVA following our
IVA advice.
Family problems were increasing which have now been eased making for a more comfortable home situation.
---
Thank you for your letter dated 16th May 2014. Please find enclosed information requested for your consideration:
My financial statement regarding income and expenditure
My last 12-months payslips
My last bank statement from february 2014 to May 2014 - which confirms utility payments
Tax credits letter confirming nil settlement - overpayment
Mortgage statements (3 number accounts)
In addition to the above, I am aware that in the next 6-months I have to attempt to gain an addition to our mortgage and will come back to you with an update on my progress on this by the of July 2014. I cannot thank you enough for your companies continued help which is very much appreciated and has kept us, as a family together.
Yours sincerely

N P