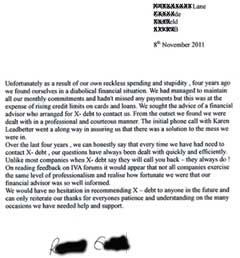 Self recriminations from an IVA client who is now in a far better place. We are grateful for these words received following entering into the IVA after our
IVA advice
---
Unfortunately as a result of our own reckless spending and stupidity, four years ago we found ourselves in a diabolical financial situation. We had managed to maintain all our monthly commitments and hadn't missed any payments but this was at the expense of rising credit limits on cards and loans. We sought the advice of a financial advisor who arranged for X-debt to contact us. From the outset we found we were dealt with in a professional and courteous manner. The initial phone call with Karen went a long way in assuring us that there was a solution to the mess we were in.
Over the last four years, we can honestly say that every time we have had need to contact X-debt, our questions have always been dealt with very quickly and efficiently. Unlike most companies when X-debt say they will call you back - they always do!
On reading feedback on IVA forums it would appear that not all companies exercise the same level of professionalism and realise how fortunate we were that our financial advisor was so well informed.
We would have no hesitation in recommending X-debt to anyone in the future and can only reiterate our thanks for everyones patience and understanding on the many occasions we have needed help and support.
RE