IVA Clients Pleased With Our Service
Following our
IVA Advice
clients are willing and happy to provide us with feedback on the service we provide either in the form of client satisfaction questionaires or simply by contacting us to tell us how we have helped them take back control of their lives and feel more relaxed in the knowledge that their debt issues are resolved.
Here are a few more ratings and comments from our clients.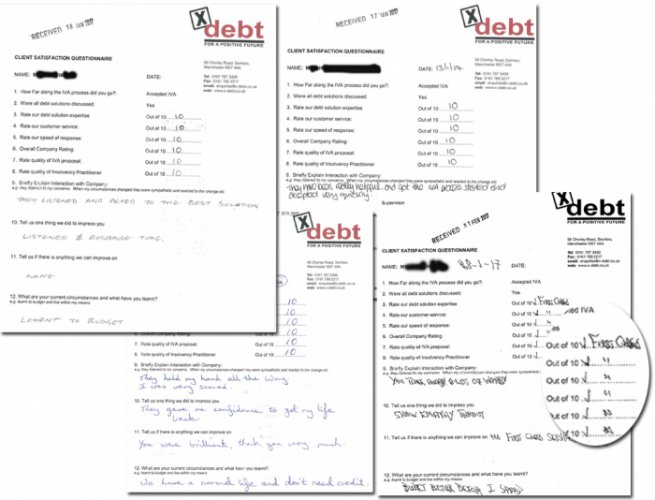 All the above clients rated our service 10/10 or 'First Class' for each category from IVA expertise, level of customer service to the quality of the IVA proposal and the Insolvency Practitioner.
We also ask for comments on certain aspects of the IVA work, the outcome achieved and what the client has learned.
When asked about interaction with the Company, comments were as follows:
"They held my hand all the way. I was very scared"
"You took away a lot of worry"
"They listened and acted to the best solution"
"They have been really helpful and got the IVA process started and accepted very quickly"
Asked what impressed the client:
"They gave me confidence to get my life back"
"The speed of your service"
"Showed empathy throughout"
"Listened and response time"
When asked what can be improved on all clients above responded that there was 'Nothing'. Other comments ranged from:
"First class service. Thank You" and

"You were brilliant Thank You"
The final question in our questiaire concerns what the client has learnt from the IVA process which is a very important aspect in getting your own life back in order should you be in a similar situation.
Feedback was as follows:
"We have a normal llife and don't need credit"
"Budget before I spend" and

"Learnt to budget"
As you can see these clients were very pleased with the service received during the process or setting up and supervising their IVA. It is clear that they now feel relieved to have an element of control over their fiunances and some peace of mind that creditors can't pressure them further or indeed petition for bankruptcy.
If you are in a situation where you are struggling with debt and can't afford your normal monthly payments or due to debt are sturggling to meet other commitments such as mortgage or rent or even to put food on the table, the first step is to get in touch for some initial IVA advice. You can call us during normal office hours on 0800 043 2424 or 0161 787 3400. That initial call can be very settling.
Alternatively you can get an indication of whether an IVA may be suitable for your needs by completing our IVA Calculator form.