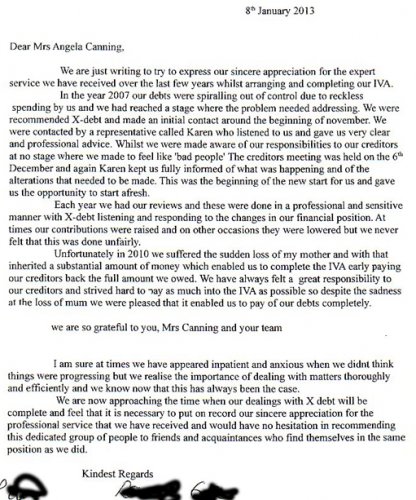 A welcomed thank you from a client who entered into an IVA following our
IVA advice
---
Dear Mrs Angela Canning
We are just writing to try to express our sincere appreciation for the expert service we have received over the last few years whilst arranging and completing our IVA.
In the year 2007 our debts were spiralling out of control due to reckless spending by us and we had reached a stage where the problem needed addressing. We were recommended X-debt and made an initial contact around the beginning of november. We were contacted by a representative called Karen who listeneed to us and gave us very clear and professional advice. Whilst we were made aware of our responsibilities to our creditors at no stage were we made to feel like 'bad people' The creditors meeting was held on the 6th December and again Karen kept us fully informed of what was happening and of the alterations that needed to be made. This was the beginning of the new start for us and gave us the opportunity to start afresh.
Each year we had our reviews and these were done in a professional and sensitive manner with X-debt listening and responding to the changes in our financial position. At times our contributions were raised and on other occasions they were lowered but we never felt that this was done unfairly.
Unfortunately in 2010 we suffered the sudden loss of my mother and with that inherited a substantial amount of money which enabled us to complete the IVA early paying our creditors back the full amount we owed. We have always felt a great responsibility to our creditors and strived hard to pay as much into the IVA as possible so despite the sadness at the loss of mum we were pleased that it enabled us to pay off our debts completely.
we are so grateful to you, Mrs Canning and your team
I am sure at times we have appeared inpatient and anxious when we didn't think things were progressing but we realise the importance of dealing with matters thoroughly and efficiently and we know now that this has always been the case.
We are now approaching the time when our dealings with X debt will be complete and feel that it is necessary to put on record our sincere appreciation for the professional service that we have received and would have no hesitation in recommending this dedicated group of people to friends and acquaintances who find themselves in the same position as we did.
Kindest Regards
LE and RE
If you are ina similar position, suffering debt problems or simply need to talk through things for peace of mind please call us on 0800 043 2424 or 0161 787 3400. Alternatively you may wish to try our
debt calcuator
to see which solution may be appropriate for you.